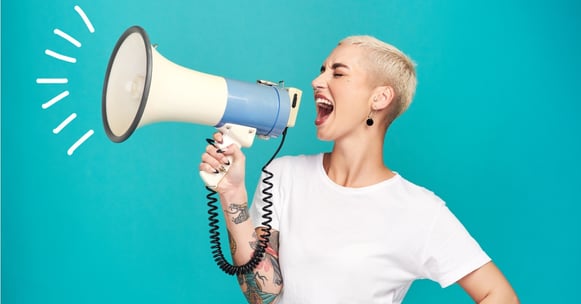 We've all dabbled in the world of social media, but how should you use social media marketing as a tool for your business? It can be challenging to know where to start. Our latest blog post walks you through the basics of social media marketing, so you can get started on the right foot.
What is social media marketing?
Social media marketing is the process of creating content for social media platforms to promote your products and services, build community with your target audience, and drive traffic to your business. It forms an important part of the marketing mix.
Social media channels
Social media channels are a vital part of every marketing plan. They facilitate the amplification of your messages to followers and provide a range of high-reach, precisely targeted advertising solutions.
The top three social media platforms in Australia are Facebook, Instagram and LinkedIn.
Facebook
Facebook has enormous reach, precise targeting capability, and potential across B2C and B2B audiences. It can be used effectively across all parts of the customer journey, from awareness to lead generation and lead nurturing and sales conversion triggers.
Instagram
Instagram is the channel for driving brand awareness to followers through targeted advertising. As part of the Facebook group, advertising campaigns can be set up and managed across Instagram and Facebook together.
LinkedIn
LinkedIn is, of course, a business-centric social media channel ideal for B2B marketing. LinkedIn account holders use LinkedIn to find opportunities for themselves and their businesses, approaching the channel with that mindset. LinkedIn can be used effectively across all parts of the customer journey, from awareness to lead generation and lead nurturing and sales conversion triggers. LinkedIn advertising's targeting capability is astonishing, down to individuals and businesses. It is, therefore, a powerful tool for account-based marketing programs.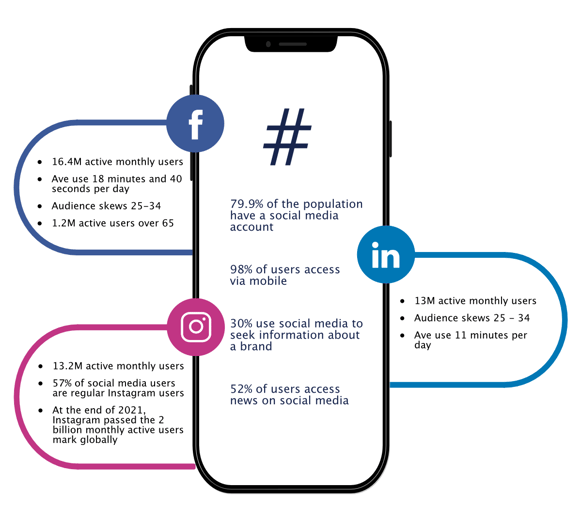 Australian social media use 2022. Sources: Hootsuite, SEM Rush, NapoleonCat, Yellow Sensus.
Other popular social media platforms include TikTok, Twitter, YouTube, Snapchat and Pinterest.
How to get started in five-steps
Strategy
Before posting on social media, take a step back and look at the bigger picture – think about your strategy. Ask yourself the following questions:


What are your goals?

How can social media help you achieve your business goals?

Which social media platforms do you want to focus on?

What type of content do you want to share?

Planning and publishing
Publishing to social media can be as straightforward as sharing a blog post, image, or video on a social media platform – just like you would on your social account/s. When planning your business social media posts, plan your content ahead of time rather than creating and publishing spontaneously. You should also consider timing and frequency to ensure you maximise your reach on social media.


Engaging content that drives action
When thinking about your social posts, a common trap on social media is to broadcast, and that's it. Social media posts, like any other marketing channel, should be engaging, effective, and drive action to your website or point of purchase.


The benefit of this is twofold when your social posts are engaged with (liked, shared, or commented on) the platforms will share your content with broader audiences, exposing your brand to fresh eyes and new potential customers.


Secondly, unless you can purchase within the platform you should always encourage your audience to your website where you can nurture to purchase.

Listening and engagement
As your business and social media following grows, so will conversations about your brand. You might receive comments on your posts; people may tag you in their social media posts or even message you directly. Because people might talk about your brand on social media without letting you know, you could consider monitoring social media conversations about your brand.
For a positive comment, you could surprise and delight the person who has mentioned your brand. If negative, you will be able to offer support and correct a situation before it gets worse.

Many social media tools exist to aggregate your social media mentions and messages to make it easier for you to track and respond to, like HubSpot, Buffer and Hootsuite.


Analytics and reporting
Once you've started posting, you'll want to know how your content on social media is performing. You can review basic levels of reporting within the social media platforms you are using. Here are 10 of the most important metrics to track:
- Engagement - likes, shares, comments
- Followers - the number of people who follow your page
- Impressions - the number of times your post is shown in someone's feed
- Reach - the number of people who have seen the post one or more times
- Video views
- Profile visits - number of people visiting your page
- Mentions - number of times your post or page is tagged
- Reposts - number of times a twitter post is shared
- Shares - number of times your post is shared
Sources: https://buffer.com/social-media-marketing and https://blog.hubspot.com/marketing/social-media-marketing
As with all marketing activities, social media marketing is one that you should learn from constantly and evolve as you get to know what resonates with your target audience.
There you have it. An overview of social media marketing for your business. Need a helping hand before diving into the exciting world of social media? Contact us to arrange an obligation-free chat; we'd be very happy to help.
About Poignand Consulting
Poignand Consulting is a strategic marketing and sales enablement consultancy that exists to unlock customer value for your business. We do this by helping enrich the customer experience at every point of contact – from the first seed of awareness to enquiry, purchase, and the post-sale relationship.
It pays to step back and assess this from time to time. Help is available. If you would like to review your current marketing effectiveness, we would happily arrange an obligation-free chat.