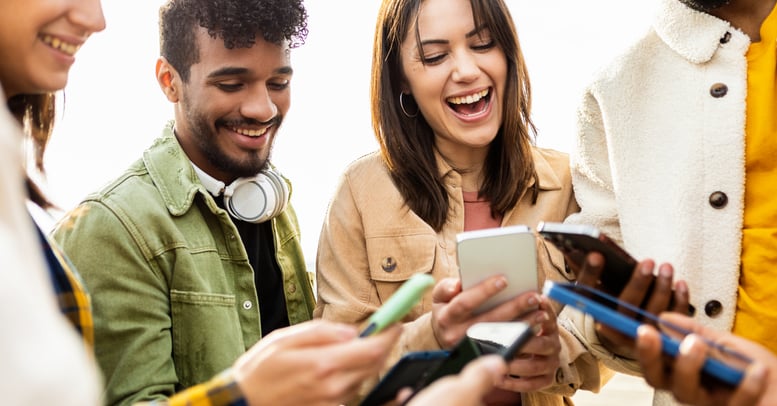 It's no secret that a social media presence is essential for businesses of all sizes. In fact, with 3 billion social media users worldwide and 21.45 million social media users in Australia alone (source: Meltwater), it's an incredibly powerful marketing tool that, if used correctly, can help achieve your marketing goals and objectives.
Organic social media posts are important, but social media advertising is quickly becoming a more effective tool. Not to say you need to stop posting organically. Organic and paid social media marketing should work hand in hand to help garner positive results.
To dig a little deeper into the basics of social media and the various platforms, read our blog post on social media marketing.
What is social media advertising?
Social media advertising is the creation of paid ad campaigns that run on social media platforms to reach target audiences. The most popular social media platforms used for these ads are currently Facebook, Instagram, Twitter and LinkedIn.
While the interfaces may look different, each platform offers a relatively intuitive dashboard that allows users to narrow down their target audience and select a campaign objective, specify a budget, and upload ad copy and creative.
This post will outline the five key benefits of social media advertising as well as a few handy tips to keep in mind as you build your various campaigns.
1. Increase brand awareness
Whether you're a new business or a well-established brand, social media advertising helps promote your product or service and increase your brand awareness from the moment you launch your campaign.
Even before considering clicks and conversions, by investing in social media advertising, you are able to get your brand in front of millions of people whom you've deemed your 'target audience' for your business.
It goes without saying that before you launch a paid social campaign, you need to have a very clear picture of who your target audience is. This will ensure your ads are served to the right people to generate the best results.
For more helpful advice about determining your target audience, read our blog post 'Targeted marketing -finding your ideal customer'.
Top tip: Be careful not to go too niche. You can target based on demographics, interests and behaviours, but avoid adding too many targeting options (especially early on in your social media advertising journey), as adding too many targeting options can backfire and narrow down your audience too much.
2. Connect with new customers
A positive flow-on effect of increased brand awareness is the ability to connect with new customers and offer them valuable insight into the product or service you are promoting.


The unique ability to target users based on their interests, behaviours and other types of demographic data gives you the benefit of introducing your product or service to users who may not have previously known your brand even existed. As any marketer can attest, this holds a huge amount of value.

But it's not just about getting your ad in front of the right audience. The ads that you promote should be highly relevant and engaging. This will encourage users to delve a little deeper and explore your brand further to decide if they want to make a purchase.

Top tip: If a campaign works well, then re-use it. However, if a campaign doesn't work, then pause it and start from scratch, so you don't inherit inaccurate machine learning from the social media platform's algorithm.
3. More bang for your buck
Social media advertising is significantly more cost-efficient than traditional advertising. If you're a small business or just starting out with a limited advertising budget, it's the perfect way to promote your products or services without breaking the bank.
Most social media platforms operate on a pay-per-click (PPC) or pay-per-impression basis, which means that you only pay if someone clicks on your ad or views the video you feature in the ad.
While starting small is possible, it's also important to remember that you pay for what you get. If your budget is too small, it may not make much of an impact. Some social media platforms, such as Facebook, will give you budget suggestions when creating paid campaigns, so make sure you try and align with these if you can.
We recommend starting with at least $500 per campaign and then monitoring its results to determine if you need to decrease or increase your budget.
Top tip: To avoid wasting your budget, make sure you determine if you want to pay per impression or per click before launching your paid social campaign.
4. Powerful audience insights
Social media advertising offers a wide range of targeting options, which allows you to test and analyse your target audience.
For example, Facebook's Audience Insights allows you to view the audience breakdowns and how they relate to the ad performance of your campaign. Attributes such as age, gender, country, region, the device used, and much more can be analysed.
This gives you invaluable insight into which segments of your audience resonates with your ads, allowing you to optimise your campaigns and update your ad set targeting accordingly for future campaigns.
Top tip: A/B testing is your best friend when it comes to creating successful paid social media campaigns. Select different attributes to test on your target audience, such as call-to-actions, images or ad copy, to build a clearer picture of what your audience wants to see.
5. More creative freedom
While each social media platform has its own recommended ad specs, placements and formats, there is a wide range of creative freedom and advertising tactics available to showcase your brand the way you want to.
Organic social posts tend to be somewhat restrictive, with limited options of how you're able to present your post. Social media advertising gives you the flexibility to tell your brand story in a more impactful way.
Some ad options include:
Static single or multiple images
Image carousels
Long and short form video content
Horizontal, vertical, square formats
Stories
Top tip: Short-form video content is very effective in garnering attention across paid social campaigns. Consider investing time and resources to create a series of short videos to feature in your campaigns.
Do you need help setting up and optimising your social media advertising campaigns? Get in touch, and we'll help you get started.
About Poignand Consulting
Poignand Consulting is a strategic marketing and sales enablement consultancy that exists to unlock customer value for your business. We do this by helping enrich the customer experience at every point of contact – from the first seed of awareness to enquiry, purchase, and the post-sale relationship.
It pays to step back and assess this from time to time. Help is available. If you would like to review your current marketing effectiveness, we would happily arrange an obligation-free chat.