Poignand Consulting is a marketing consultancy with an entirely remote workforce. We started it that way as many start-ups do. We've stayed that way because it's a great way for us all to work and I genuinely believe that the business is better because of it.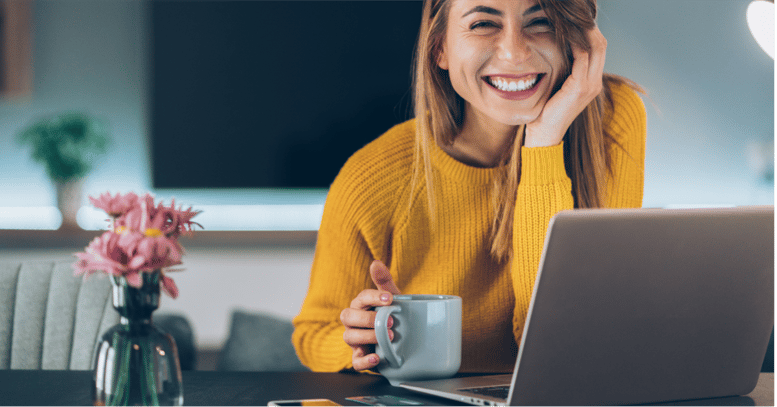 The benefits
The number one benefit is flexibility. Within reason, and depending on the type of work you do, you can choose when to work.
In our case, most of our people have young children. So, the flexibility that's provided by working around their child's needs is great for them and their children. This aspect alone has allowed us to hire exceptional talent that values the flexibility provided. To have both the ability to secure great people and keep costs low affords the business a significant competitive advantage.
Furthermore, no more commuting is a real-time cost and stress saver. And depending on your home environment, there can be fewer distractions, which can result in significantly improved productivity.
The problems
Now, before I get into how to make it work successfully, it's important to acknowledge that for some, it is not at all simple and easy. If you have kids around the house, there are constant distractions. Finding the right space can be a challenge.
Not all people are built to work in unsupervised environments. When on their own, some can struggle with lack of motivation and feel emotionally isolated.
However, a bigger problem to overcome can be that of leadership quality and business expectations. Despite the many advances in leadership effectiveness and workplace relations that have been achieved by many organisations, gaps exist. To a lesser or greater extent, many companies are still primarily 'command and control'. Many assess employee productivity through observation rather than measurement. Most of all, there is often an expectation that the employee is in some way owned by the company.
How we make it work
Leaders must ensure that everyone is very clear on their job role, including the quality, quantity and timeliness of work completed. This requires:

High-quality induction and ongoing training

High levels of support and check-in, particularly early on when some people are unsure and not always confident to ask a lot of questions. I've made mistakes with this one.
Unambiguous and consistent communication.



Communication always matters, and more so with a distributed workforce. We consciously communicate what's going on all of the time. We do this via:

A weekly work in progress meeting via video conference – a focus on work to be completed and shared understanding
Regular one-to-one meetings via video conference – a mix of current work and making sure that the individual is happy and getting what they need to succeed
Instant messaging, phone calls or Facetime for quick updates
Most of all, we're aware that we need to compensate for the relative isolation by encouraging social conversation at the start and end of meetings and using video as much as possible. If in doubt, let's talk about it.



We consciously approach our relationships with staff, knowing that our business is not the most important thing in their lives. We don't compete with family or individual passions.

We've had plenty of video meetings with interruptions from the kids. Ten years ago, I would have been grumpy about this and demand attention. Now I know that these little impacts on the productivity of a meeting are nothing compared to the commitment we get back in return for the flexibility we provide.

Ultimately, all we need is happy people who do their job within an agreed time frame. Happy people are motivated to do great things and are very, very productive.


We use secure, simple and stable systems and technology that are easy to maintain and easy to use.


Productivity software: Microsoft Office 365 Business
File storage: Dropbox for Business
Backup: Network-attached storage with remote cloud backup
Video conferencing: Zoom
Instant messaging: Apple iMessage but moving towards Slack
Collaboration and lists: Trello
Time-tracking and reporting: Harvest.



As with all teams, shared values and fit are critical. Again, this matters more with a distributed workforce. Less time is spent together, and observation of people's behaviour with others is limited. This means that a lot of work is put into high-quality recruitment.

Behavioural competency-based interviews
Sharing values, beliefs and personal drivers of satisfaction
Rigorous reference checking that explores between the lines and between the cracks
The most important competencies are those advanced by my former employer Canon. Known within Canon as The San-ji (Three Selfs) Spirit they are self-awareness, self-motivation and self-management.



The practical things matter too, of course. These are so other things that leaders of remote workforces must also strive to perfect across their teams.

An ergonomic workplace setup including a good chair and correct monitor height

A fast and robust internet connection. Upload speed matters for video conferencing, file sending and the effective operation of many cloud-based platforms. Therefore, a 100/40 NBN connection or dedicated 4G router is recommended.
If you have any questions, please contact us. We're always happy to share and help.
For more information on Poignand Consulting, click here.